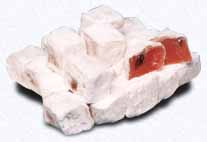 Loukoumi (Greek Delight), the trade mark of Syros is a sweet produced in a number of small workshops. The art of preparing loukoumi came to Syros with the Greek refugees from Chios. The basic ingredients of the loukoumi are simple: water, starch and sugar. Its preparation though needs experience and feeling. While at the beginning loukoumi had only one taste, as the years went by, new varieties appeared with new tastes like that of mastic, rose, bergamot, mandarin, coconut, almond, pistachio, walnut, etc. All these tastes are sweet temptations. Around the loukoumi, various professions made their appearance, as well as habits. In Syros, loukoumi penetrated the life of the island and its popularity was extended beyond Syros. Although loukoumi is prepared nowadays in other parts of the country, the one from Syros continues to maintain a unique taste which is probably due to the natural water of the island and to an excellent know-how passing down from one generation to the next.
Usually served after dinner, with Greek coffee, with ouzo, with water or when you welcome a guest to your house loukoumi is the first thing you offer since it is sweet and makes your guests fill welcomed.

Almond cookies. These sweets are prepared with crushed almonds and are found in the whole region of the Aegean Sea. Their ties are closer though with the Cyclades. They are prepared in various ways depending on the traditions of each island. As a rule, their basic ingredient is well-crushed blanched almonds dipped in liqueur or rosewater, combined with sugar. Their shape is oblong or round, or like small pears. Sometimes they are baked, some others, not. They are always covered with caster sugar.